The 40th anniversary of National Union in Quang Tri Province
Mr. Nguyen Quan Chinh, Vice Chairman, People's Committee of Quang Tri Province came to visit the site of LED installation.
Posted at: 06-09-2017 09:25:50 PM - Viewed: 1157 - Feedback: 0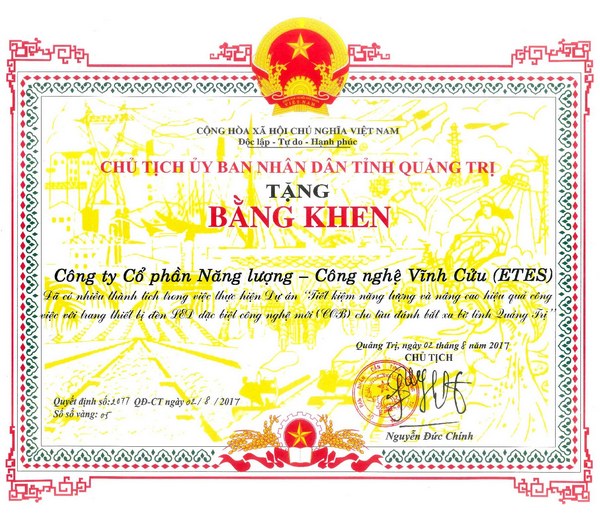 Decision to award for the project; "LED system installation for offshore fishing ships - Quang Tri Province.
Posted at: 02-01-2014 04:05:23 PM - Viewed: 2030 - Feedback: 0
Environment Consultancy
Posted at: 06-01-2019 11:50:27 PM - Viewed: 68 - Feedback: 0

Smart meters for gas and electricity can help keep track of energy use more easily than conventional meters. A national rollout of smart meters is under way, although there is uncertainty over when it will be completed. There are a number of options for homeowners to generate their own electricity, such as solar and wind turbines. Heat can also be generated using solar, biomass and air and ground source technologies.
Posted at: 09-04-2015 10:05:59 PM - Viewed: 2447 - Feedback: 0

Now that the flowers are beginning to bloom and warmer weather is on the way, there are some easy things anyone can do to save energy and money both around the house and at the office. Here are 10 energy saving tips courtesy of the Department of Energy:
Consultancy
Energy Audit
ONLINE
(0909.901.045)
MOU SIGNING CEREMONY ABOUT SPECIAL LED WITH COB TECHNOLOGY FOR FISHING SHIPS BETWEEN QUANG TRI PPC AND NEDO
Online: 239
Today: 12690
This month: 305800
Total: 5121167